Ocean shipping rates in the spot market have plunged by even 75% in 2022, some of them even below contract rates. Queues of cargo vessels off the coasts of China and the US have shortened dramatically. Shipping cost is down, but will this trend continue? 
What is freight rate in shipping? 
What is the freight rate definition? Shipping rates are roughly the same as transportation costs, freight charges, or hauling fees. A freight rate is a price at which a certain cargo is delivered from one point to another. To be more specific, freight is the movement of goods by modes of transportation such as trains, ships, trucks, or aircraft. The shipping price depends on the form of the cargo, chosen mode of transportation, the weight of the cargo (CBM) or TEU, and the distance to the delivery destination. A flat rate is a method of payment that someone charges at a level that does not change, in other words, a fixed price.
Shipping cost is down 
Shipping rates are falling. For example, a 40-foot container fell under $4,000 for the first time since September 2020 (Shanghai-Los Angeles). It is about 50% lower than three months ago. The situation took a very different direction. 2020 and 2021 were record years for some shipping lines. The reality is that A.P. Moller-Maersk A/S, Hapag-Lloyd, and Cosco shares are the weakest since.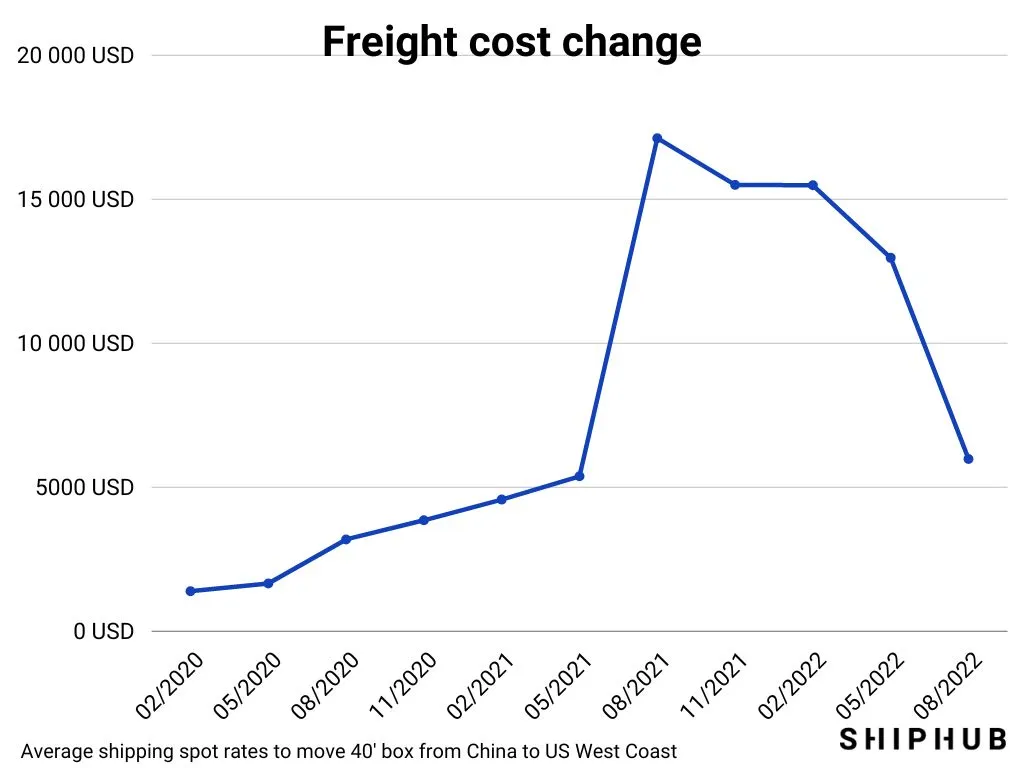 Why is this happening? Seeing a weaker demand for goods and stocked warehouses, cargo customers demand cheaper shipping rates. Operators, on the other hand, aim to stick to their long-term contracts. China's economic slowdown also plays a role in the shipping costs slump.
Shipping freight rates
Shipping cost (freight) is down by 50-2000 USD in a month (September-October), except for air freight. List of current rail, ocean, and air freight rates (October 2022):
LCL Rail freight
Xiamen – Hamburg: 2.38 cbm – 650 USD
FCL Rail Freight
Guangzhou – Duisburg: 40'HC – 6500-8000 USD
LCL Ocean Freight
Gdansk – Brisbane: 8.64 cbm – 2500 USD
Gdansk – New York: 1.92 cbm – 800 USD
FCL Ocean Freight
Xiamen – Hamburg: 40'HC – 5000-6000 USD
Gdansk – Felixstowe: 40'HC – 3500 USD
Air Freight
Toronto – Frankfurt: 0.1 cbm – 500/600 USD
Manchester – Warsaw: 1.2 cbm – 700 USD
Shipping cost is down in 2022. Will shipping rates go down in 2023? 
Shipping costs slump is expected to remain in 2023 and 2024, with an upswing around Christmas time and New Year celebrations. It is highly unlikely that the shipping rates will return to the pre-pandemic levels, especially given the higher fuel costs.