Despite years of tensions, Turkey and Israel have been able to maintain good trade relations. Their goods exchange managed to reach a record value of $8.4 billion. Moreover, Israel is Turkey's ninth-largest trade partner. The main products exported to Israel are cars, raw iron bars, hot-rolled iron bars, cement, jewelry, and insulated wire. In this article, we will analyze the best ways of shipping from Turkey to Israel.
Shipping from Turkey to Israel – means of transportation
Sea freight from Turkey to Israel
The geographical location of both Turkey and Israel makes the best conditions to establish maritime trade links. Sea freight is the most popular shipping method. Sea shipping is relatively inexpensive compared to other means of transportation. Another advantage is that it offers an enormous carrying capacity, making it convenient for transporting larger loads or bulk shipments. The downside is longer delivery time, which is a factor that has to be considered before choosing this delivery option.
When transporting goods by the sea, one must choose between FCL and LCL transport. FCL (Full Container Load) means that a container's total capacity is used only by one importer/exporter. On the other hand, LCL (Less Container Load) means using only a part of a container and sharing the rest with other senders/recipients. Hence, FCL shipping is faster than LCL. Usually, the shipping should take around 5-6 working days.
Main cargo seaports in Turkey
Port of Haydarpaşa (TRHAY) – Turkey's fourth-biggest port, the second-biggest port in the Marmara Region, with an annual cargo volume exceeding six million metric tons, located in Haydarpaşa, Istanbul.
Port of Mersin (TRMER) – Turkey's leading gateway to the Mediterranean Sea, located on the north-eastern coast of the Mediterranean Sea in Mersin, southern Turkey.
Port of Izmir (TRIZM) – also known as Port of Alsancak, operates in the Gulf of Izmir.
Main cargo seaports in Israel
Port of Haifa (ILHFA) – one of the largest ports in the eastern Mediterranean in terms of freight volume, situated to the north of Haifa's downtown quarter on the Mediterranean.
Port of Ashdod (ILASH) – handles the biggest volume of cargo containers annually of all Israeli ports, located in Ashdod, about 40 kilometers south of Tel Aviv.
Port of Eilat (ILETH) – the only Israeli port on the Red Sea, located at the northern tip of the Gulf of Aqaba.
Airfreight from Turkey to Israel
Airfreight is the best option if your cargo must reach its destination as fast as possible. There is no faster or safer shipping method other than air transport. Unfortunately, it is also the most expensive one. Therefore, airfreight should be considered when transporting fragile goods. Since it is safer, it is also often used to transport luxurious products. Examples of products that might require airfreight are food, jewelry, luxury items, pharmaceutics, and flowers. The delivery should take around 1-3 working days.
Main cargo airports in Turkey
Istanbul Airport (IST) – main international airport serving Istanbul, the busiest airport in Europe and the 13th busiest airport in the world in 2021.
Ankara Esenboğa Airport (ESB) – the international airport of Ankara, the capital city of Turkey.
Main cargo airports in Israel
Ben Gurion Airport (TLV) – the main international airport of Israel and the busiest one in the country, located about 45 km northwest of Jerusalem and 20 km southeast of Tel Aviv.
Haifa Airport (HFA) – an international airport located to the east of the city of Haifa.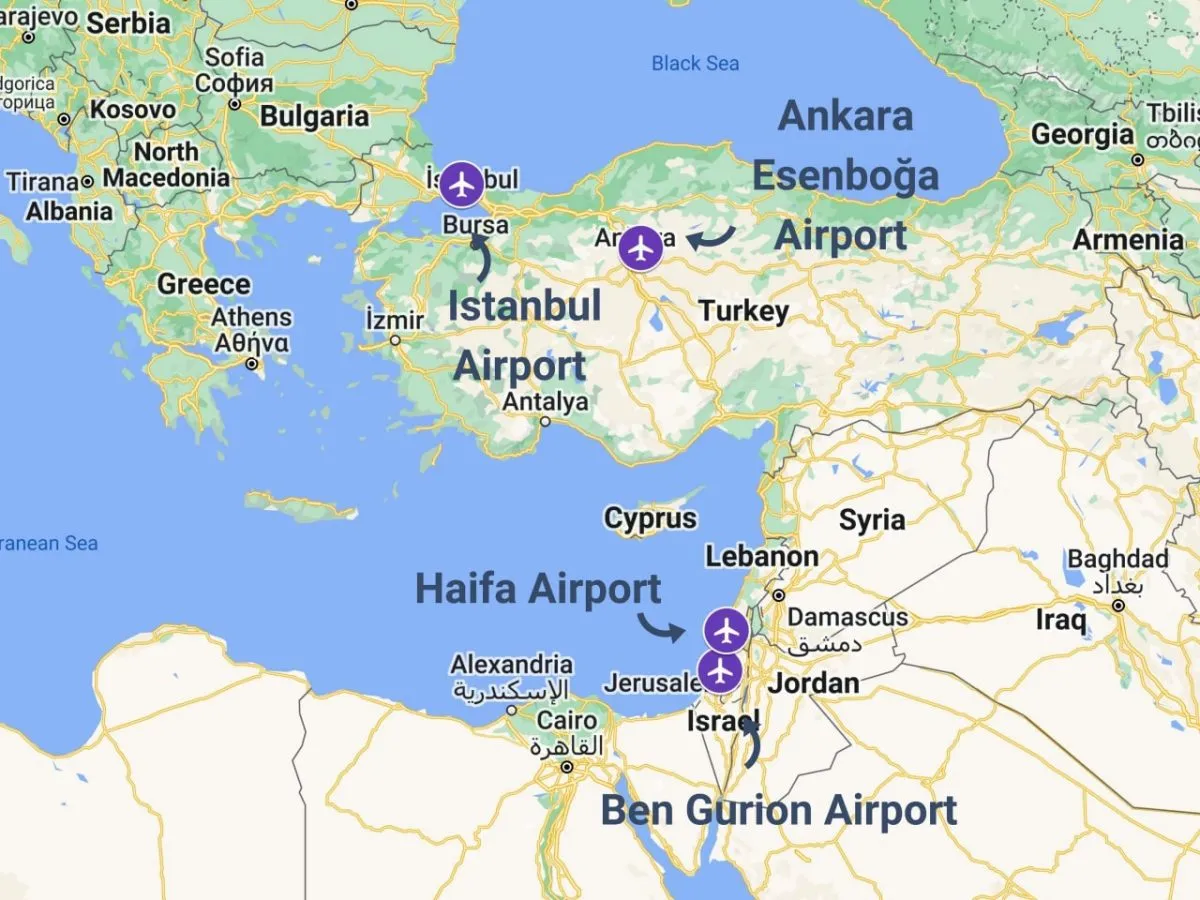 How much does it cost to ship from Turkey to Israel?
The shipping cost will vary depending on the cargo's type and requirements, the method of transport, the route and distance, and the chosen freight operator. It is a good idea to compare different offers made by reliable freight forwarders. ShipHub.co is a perfect website to do so. Our website allows you to receive a quote for your shipment so that you can pick a forwarder that suits your needs the best.