FCR (Forwarder's Certificate of Receipt) is an international trade document. It is issued by members of the International Federation of Freight Forwarders Associations (FIATA in short), a non-government organization representing forwarders from all over the world.
Who is a forwarder?
A forwarder is a person or a legal entity dealing with organizing cargo shipping and related issues, depending on the needs. They are responsible for sending and receiving cargo and sometimes for related actions such as unloading, loading, and packing.
When is the FCR document needed?
FCR is the standard version of a trade document prepared by FIATA for common usage in international shipments. It is only available to FIATA members.
FCR is usually used in international transactions, in which the sides decided on using the Ex Works (EXW) term. Ex Works ensures that the seller will deliver the shipment to the buyer in a given place and time. Therefore, the seller is responsible for all the risks and costs related to the shipment until it is delivered to the buyer.
Moreover, the FCR document is used when the payment is made using a letter of credit. In this case, it is often required by banks.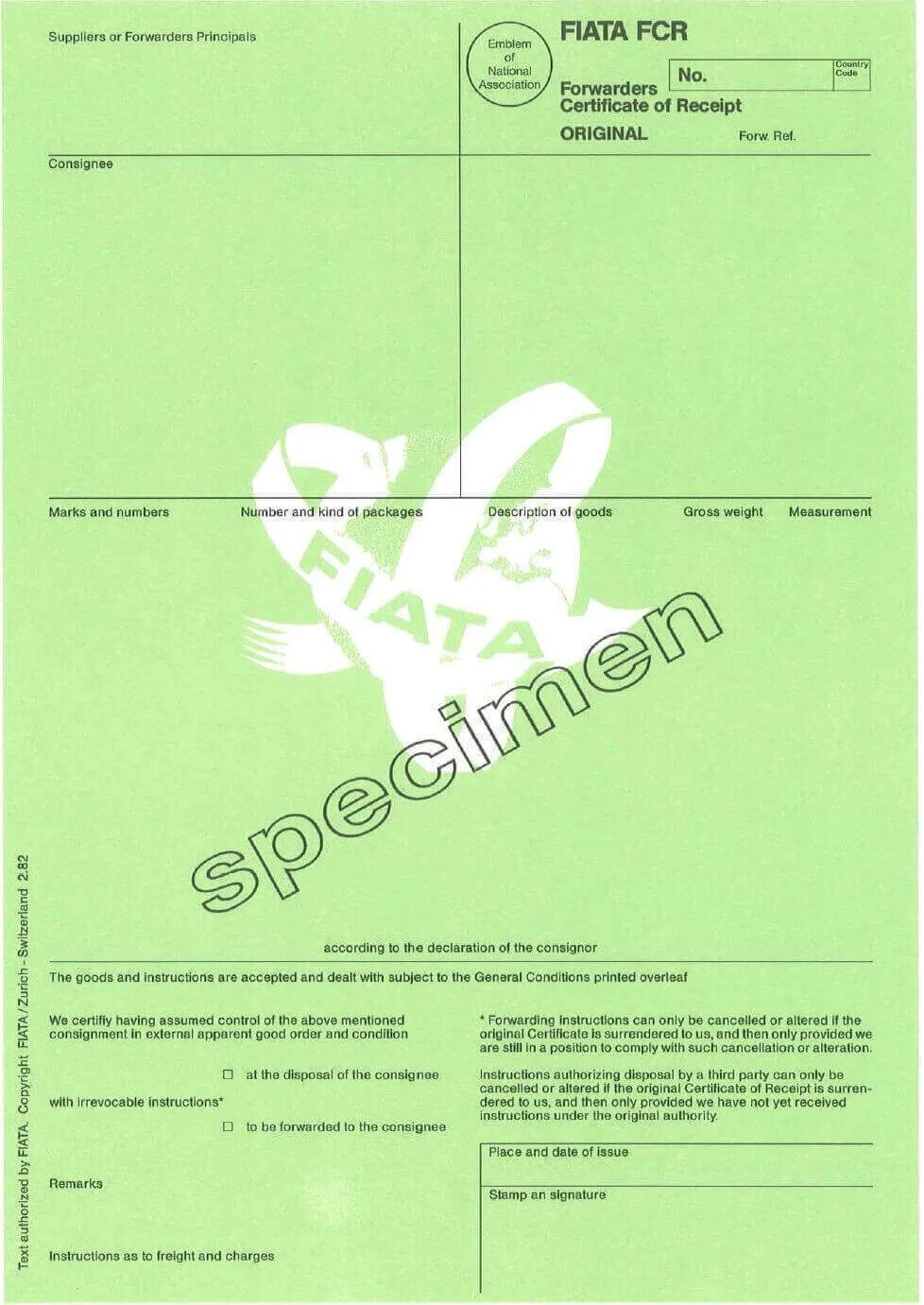 FCR's most important features
The document does not include a contract of carriage. Therefore, it is not accepted as a transport document when it comes to the letter of credit.
When issuing an FCR document, the forwarder certifies the seller that he is responsible for the given shipment and guarantees to deliver it to the buyer in the best condition.
The document is not negotiable. The recipient does not have to show its original to receive the product from the shipping company.
It is a non-transferable document, so the rules cannot be transferred as an endorsement. It enables the seller to get the payment right after handing the product to the forwarder and receiving the FCR.
Invalidation is only possible when the forwarder receives the original FCR document.
What is the difference between the FCR and the sea waybill?
FCR does not include the contract of carriage (between the loading port and the unloading port), and the sea waybill (Bill of Lading) does.
In the case of the sea waybill, at least one original waybill needs to be handed to the forwarder for the product to be delivered. With the FCR, the receiver can get the shipment from the forwarder without giving them the waybill.
Unlike the waybill, the FCR is not a document accepted when using letters of credit.
FCR cannot be transferable, while the sea waybill can.