Since 2001, when China joined the World Trade Organization, we have seen its rapid economic growth. Currently, China's exports contribute an estimated 40% of the country's GDP. On the other side, we have the world's biggest importer, the United States. The yearly import value is around $2.4 trillion. The United States is one of major China's trade partners, followed by Japan, South Korea, and the European Union. The US imports from China accounted for around $438B. In this article, we will take a closer look into shipping goods from Shanghai to Los Angeles.
Top shipped products from China
Top exports from China:
Broadcasting Equipment ($223B)
Computers and Integrated Circuits ($276B)
Office Machine Parts ($86,8B)
Cloth Articles ($60,7B)
Telephones ($51B).
Shipping from Shanghai to Los Angeles – Means of transportation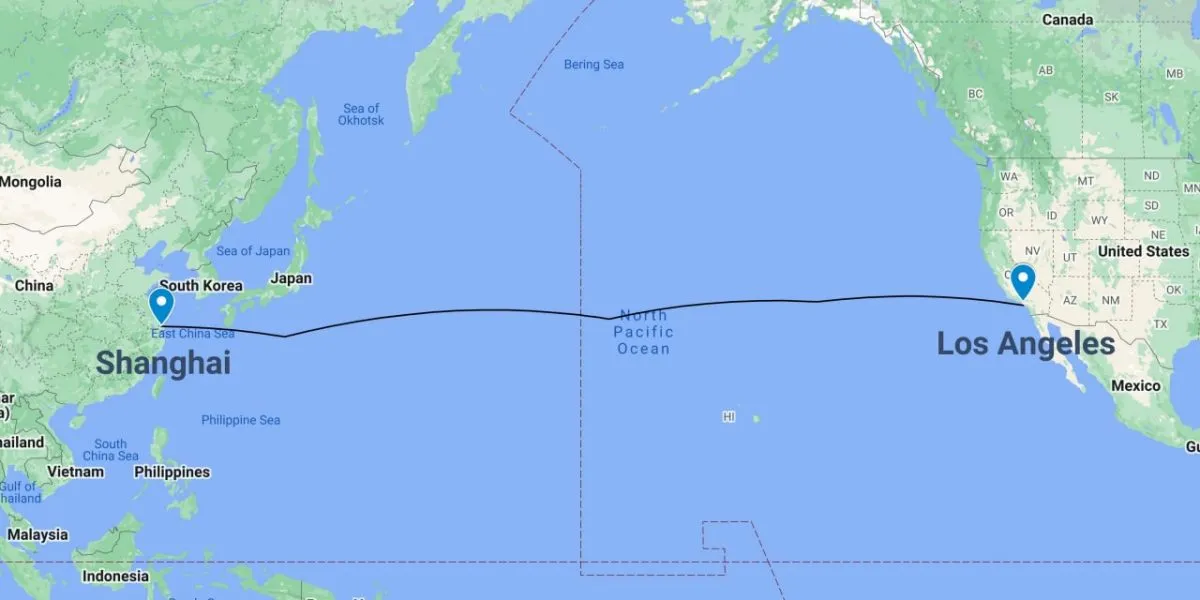 Ocean Freight from Shanghai to Los Angeles
Ocean freight is certainly the cheapest and most popular method for shipping goods in international trade. It is said that roughly 90% of shipped products are seaborne. The most common way of shipping goods is in containers (containerization). It is important to remember that this is also a form of transportation that takes the longest. Shipping from Shanghai to Los Angeles by ocean freight usually takes from 14 up to 40 days. Relevant documentation, including a certificate of origin, as well as the correct HS Classification code, is required.
The Port of Shanghai is currently the biggest seaport in the world in terms of container throughput. China is also known as the leading shipbuilder. Every year, it delivers around 50% of the world's total deliveries of ships. Besides ships, China also produces an enormous number of containers. It is said that it makes more than 96% of the world's dry cargo containers and 100% of temperature-controlled containers. It means that the ocean freight from Shanghai is surely very fast and affordable for importers.
It is important to keep an eye on changing laws and customs implemented by the Shanghai Customs office since every customs office in China follows different rules. For instance, the Shanghai Customs office has no recognized standards for loose cartons and less than container load (LCL) general cargo, but on the other hand, it has port-specific requirements for palletized LCL bonded cargo. Thus, finding a freight forwarder who is well informed or can correct any issues with the shipped products is necessary to avoid the clearance process being delayed.
Airfreight from Shanghai to Los Angeles
Airfreight is another option for shipping from Shanghai to Los Angeles. It is much faster than ocean freight, but the weight and quantity of products from the shipment are limited. The price for air freight is also higher, but the shipping takes only 2-15 days.
There are also two types of cargo – general and special. The general cargo stands for any parcel with physical products, so anything from electronics to apparel. Special cargo refers to goods that require specific care during shipping, for example, live animals, chemicals, or frozen goods.
An air waybill (AWB) is an essential document when shipping by air freight. It contains information about the tracking number and is a contract of carriage.
The Shanghai Pudong International Airport is certainly known as the busiest in China and one of the busiest cargo hubs worldwide.
Shipping from Shanghai to Los Angeles – shipping cost
Ocean freight and air freight rates can be flat or depend on the cost per CBM and fees. As mentioned previously, prices for air freight are usually much higher due to faster shipping time as well as limited space on the planes.
When deciding on a shipment method, we advise you to compare offers from multiple freight forwarders, as they might differ. Using ShipHub, importers can easily reach out to the forwarders who will send their offers depending on the amount and type of goods and the place of destination.
Shipping from Shanghai to Los Angeles – the impact of holidays
National holidays in China lead to sudden delays in international shipping, especially during the Chinese New Year or Golden Week. Even though major ports in China are open all year round, not every local carrier operates during holidays. The delay could take anywhere from a few days to weeks, depending on the current situation in the country, so it is important to keep that in mind when planning to ship cargo from China.
National holidays in China which can cause delays:
New Year's Day – first of January, 1 day
Chinese New Year – end of January to mid-February, 14 days (often more)
Qingming Festival – early April – 1 day
Labor Day – early May, 3 days
Dragon Boat Festival – end of June, 3 days
Mid-Autumn Festival – early October, 1 day
Golden Week – early October, 7 days
China's National Day – early October, 3 days.
Shipping from Shanghai to Los Angeles – To sum up
China is currently the biggest trading country in the world. Shanghai in China has the world's largest port by cargo throughput.
The United States is China's biggest trade partner.
The available shipping methods from Shanghai to Los Angeles are sea and air freight.
Airfreight is the most expensive option, so it is recommended for perishable or valuable goods.
Sea freight is cheap and allows to import large amounts of goods between the US and China; however, it is slow and can take weeks.
If you want to import goods from other ports in China to the United States, check our comprehensive guide!