Canadian Pacific and Kansas City Southern merged into Canadian Pacific Kansas City (CPKC) Ltd. The company will create the first-ever single-line railway connecting Mexico, the US, and Canada. It means that shippers will get new environmentally friendly options to move their goods across North America.
CPKC – the first freight rail line to run through Mexico, the US and Canada
Even though Canadian Pacific completed its USD 31B acquisition of Kansas City Southern on 14 December 2021, the two companies continued to act independently. In March 2023, the KCS shares were transferred to an affiliate of CP, and KCS was integrated into CPKC. The merger was approved by the US Surface Transportation Board (STB).
After the merger, Canadian Pacific Kansas City (CPKC) is still the smallest Class I railway company in the US. Still, it has a more extensive and more competitive network, spanning across 20,000 miles. CPKC runs to both coasts of Mexico and both coasts of Canada, connecting through the middle of the United States. Moreover, it has the best port access on coasts around the continent, from the Gulf of Mexico to Lázaro Cárdenas on Mexico's Pacific coast to Vancouver to Atlantic Canada. Its global headquarters are in Calgary (Canada). CPKC employs 20,000 people.
What will be transported? Intermodal freight goods will be shipped from Dallas to Chicago, and bulk cargo (like grain) will be transported to the Gulf Coast from the Midwest. It is expected that the railway will facilitate the US-Mexico trade of finished vehicles & automotive parts, as well as mixed parts.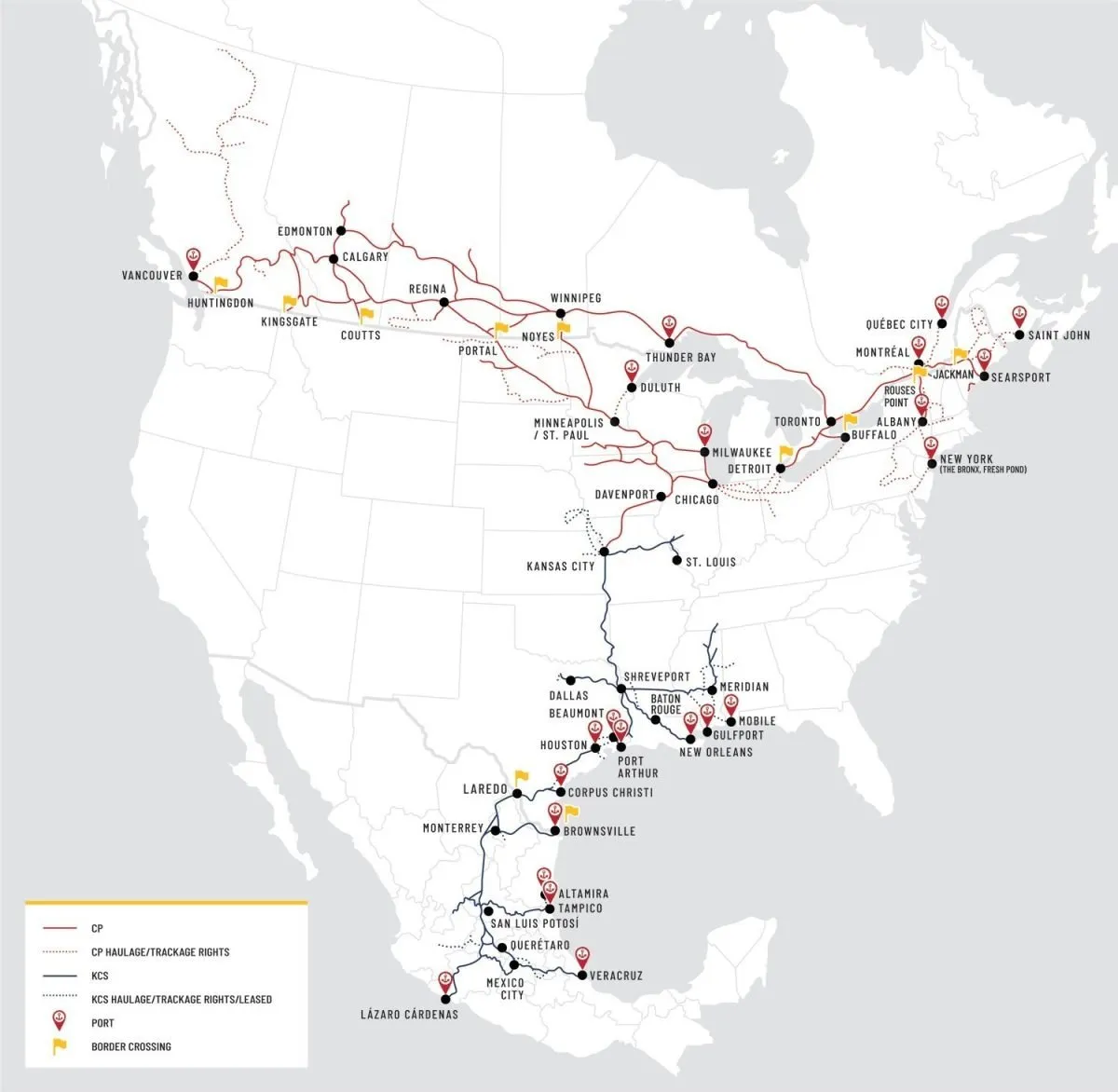 Mexico-US border crossings: Laredo, Brownsville
US-Canada border crossings: Huntingdon, Kingsgate, Coutts, Portal, Noyes, Detroit, Buffalo, Rouses Point, Jackman.
Benefits of CPKC
new businesses and growth opportunities
cheaper options for moving goods across the continent
enhanced rail safety
replace truckload transportation with more eco-friendly rail service (64,000 fewer long-haul trucks per year!) and lower highway maintenance costs
easier access to North American markets (almost 500M consumers in total)
not limited to freight services, more passenger services.
Image: Railway Age, William C. Vantuono