The cost of importing from China depends on many dynamic factors, which means it changes rapidly over time. Deep into the pandemic, the freight rates were soaring. Fortunately, now we experience a downward trend in freight rates from China. What is the actual shipping cost from China in 2022?
How to ship from China?
Sea freight is the most popular method for shipping goods in international trade. Freight rates for sea transport from China in 2022 are lower than in 2021. The price change is illustrated in the chart below.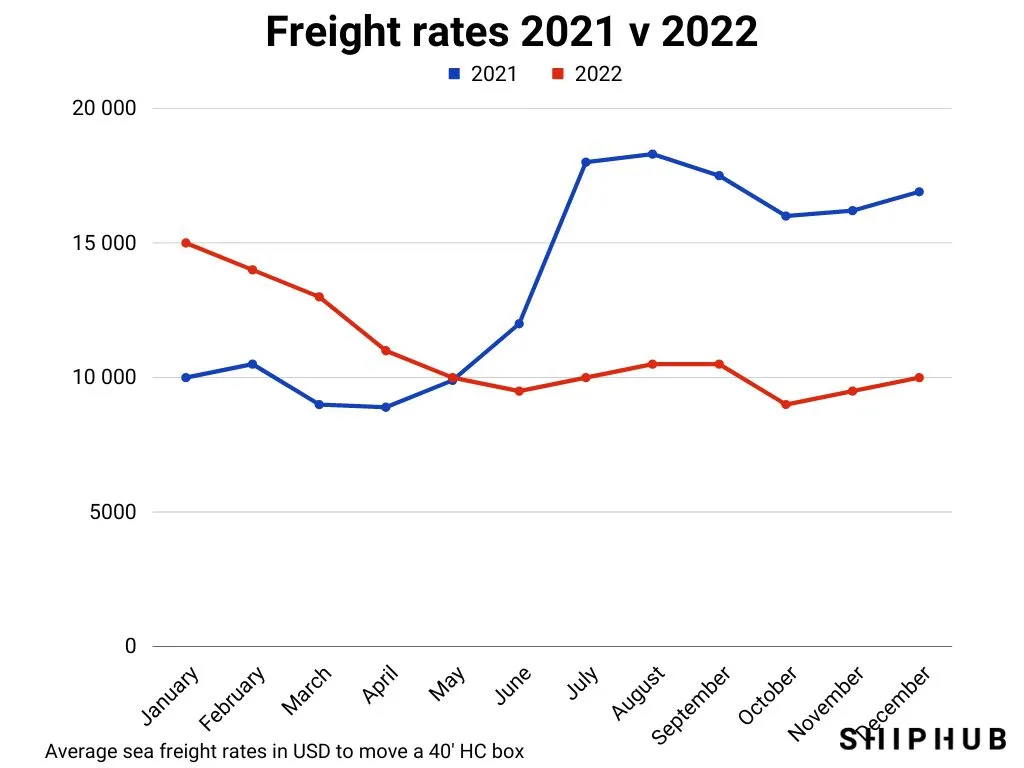 There are two terms in sea transport, Full Container Load (FCL) and Less than Container Load (LCL). The same terms are used in rail transport. Although rail freight takes less than sea shipping, air freight transit time is the shortest. Air shipping costs rise and fall less dramatically than sea and rail and most of the time remain high.
Road transport from China is an alternative to the sea, rail, and air transport. There is also a multimodal transport solution, meaning the carriage of goods by at least two modes of transport on one transport contract.
Freight rates from China 
Shipping cost from China to Europe using ocean, rail, and air freight (October 2022):
FCL Ocean Freight 40'HC
Tianjin – Gdańsk: 4500-6000 USD
Xiamen – Hamburg: 5000-6000 USD
LCL Ocean Freight
Shenzhen – Gdańsk: 12 CBM – 3700 USD
FCL Rail Freight 40'HC
Jing'an – Gdańsk: 5000-7000 USD
Guangzhou – Duisburg: 6500-8000 USD
LCL Rail freight
Ningbo – Pruszków: 780 kg/13.14 CBM – 2800 USD
Xiamen – Hamburg: 2.38 CBM – 650 USD
Air Freight
Yiwu – Gdańsk: 200 kg – 6000 USD
The above rates were provided by freight forwarders. To find out how much it will cost to ship your cargo, make a free inquiry on ShipHub.co. Choose an offer from a reliable forwarder that suits you the best!